Project Management & the Project Controls Function
Project management is the application of processes, methods, skills, knowledge, and experiences to achieve project specific objectives within agreed upon parameters in which there is a defined deliverable. Projects have finite time spans and each one is different in terms of complexity, size, type, and objectives.
What is
Project Control?
Project Controls is function within the Project Management methodologies specifically relating to the time and cost areas within a Project. Project controls activities can be undertaken by a Project leader, or in most cases it is one of the Project teams roles and responsibilities, as the project increases in size and complexity, by dedicated Project Controls professionals may be utilised.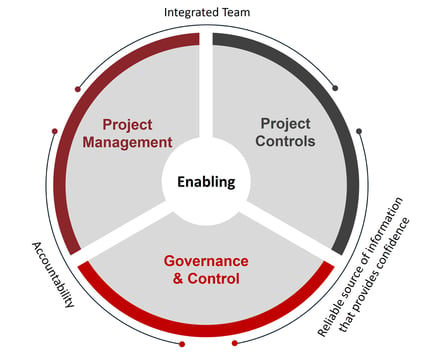 According to the Project Management Institute (PMI)'s "A Guide to the Project Management Body of Knowledge (PMBOK® Guide), "Project controls are the data gathering, management and analytical processes used to predict, understand and constructively influence the time and cost outcomes of a project or program; through the communication of information in formats that assist effective management and decision making."
An effective project controls information system enables effective proactive management of the project. The idea is to deliver value by offering more to project stakeholders than time and budget overruns, delays, risks, or technical issues.
A successful project controls system enables trending analysis and forecasting to predict issues while there is still time to fix them.
Project Control processes generally fall into the following categories:
Project Planning
Cost control and forecasting
Risk Management
Management of Change
Performance monitoring and analysis
What are the Benefits of Project Controls?
Projects by their very nature tend to be complex and dynamic where statistics say most result in project failure, specifically when it comes to delivering on the success criteria. The various moving parts can make it difficult to stay aligned with business objectives. However, successful project delivery by close monitoring, analysis, and regulation can keep the project on track and set up for project success. Projects of all sizes see a marked improvement in delivering business benefits when controls are properly executed. These include:
The ability to make timely effective decisions based on objective facts rather than subjective opinions

The ability to control project costs and mitigate project schedule delays

Increase project predictability for cost and completion date

Increased visibility into the financial health of the project at all stages

Ability to mitigate project scope creep

Meaningful benchmarking data for future projects via well-structured projects

Increased margins when working in a fixed-price environment

Improved reputation for properly managing and controlling projects

Competitive advantage over organizations with less mature project management capabilities
The overall reduction in risk of over expenditure can range between 6% and 20% of the total capital investment
(Independent Project Analysis)
Enablers and Barriers of effective Project Controls
The initiation and planning phases of the project define the framework and roadmap for the project implementation. During these stages, the framework to establish an effective system to monitor and control the outcome of the project is defined. This normally forms part of quality management.
The key requirements to enable the creation of this system include:
Business case definition – The "Why" of the project and what business results are expected

Establishment of project goals, scope, key stakeholders, responsibilities, requirements, and any critical success factors

Development of accurate and detailed cost and schedule baselines including breakdown structure

Development of packaging/procurement strategies

Alignment of commercial requirements for contractors

Senior management involvement to ensure project controls is a requirement

Clear definitions of project controls standards, processes, and procedures which represent "best practice"

The employment of skilled and experienced project controls personnel
The project ecosystem is a dynamic environment that requires first and foremost, the clear framework and requirements defined. Lack of clarity of the project goals or scope or the roles and requirements of the stakeholders, creates a barrier for the implementation of effective controls and the ability in achieving successful deliver of the project.
Additionally, lack of applying this framework to all stakeholders, management staff, and particularly contractors, can lead to the inability to capture key performance and risk data.
The execution and monitoring phases of the project see the establishment of effective and efficient workflows and activities to deliver the project goals to meet the project objectives. Establishment of effective monitoring and performance controls are critical to identify risks and deviations from the original plan and to the overall success of managing the project.
Effective monitoring tools:
Integrated project control tools (software) for sharing of accurate and timely project data

Alignment of project cost and schedule

Establishment of accurate performance measurement mechanisms such as Earned Value Management (EVM)

Frequent evaluation and communication of project performance and risks

Effective change management practices identifying deviations, risks and trends

Effective and realistic methodology to estimate project at completion cost and duration
Project controls involves not only the collection of accurate cost, time and progress data, but effective analysis and communication, to ensure that deviations and risks are explained and/or mitigated effectively. This requires:
experienced project controls personnel

effective communication processes and,

correct governance
Conclusions
Understanding the amount and level of project controls on any project is dependent upon the size, complexity and type of project. However,

having effective project controls systems reduces risks and drives performance.

Project professionals know that there will always be unexpected delays, additional costs, or unexpected circumstances that occur during the lifecycle of a project. But

without project controls to identify and flag these issues so that they can be mitigated, costs and delays can spiral into much larger expenses and affect other areas of the business.

Effective project controls system is at the heart of good project management, giving management the ability to see and control what is happening on the project and be able to quantify, control or mitigate changes which may affect successful delivery.
---
Related Articles:
---
References:
---
Contact us to enquire about how we can assist you in implementing and managing the project controls on your next project:
---