6 Tips for choosing a Warehouse Management System in Australia
Running an efficient warehouse goes beyond storage management.
This article looks at 6 practical steps that you can use as a checklist to assist a supply chain manager to successfully navigate selecting a warehouse management system (WMS).
To stay competitive a business MUST operate efficient processes to:
minimise order processing times

maximise inventory control

run an efficient picking system with minimal errors

reduce operational costs

run lean warehousing operations

provide visibility of order statuses and out of standard performances
With this in mind, how do you go about achieving these objectives? In today's environment many businesses large and small have implemented or are looking to implement a warehouse management system.
How do you choose the right warehouse management system?
Warehouse management system (WMS) selection can be challenging, and you would not be alone in wondering where to start in determining which is the best one to select. To make an informed decision, you need to understand what the options are, why they differ, and which is best suited for your company.
When you break it down, there are basically three types of WMS:
systems that are integrated within the standard offering of a company's ERP and provide core functionality.

fully functional standalone warehouse management system that are connected toa company's ERP (enterprise resource planning) and provide an extensive set of workflows and reporting suites.

App based solution or 'lite' platforms that may or may not be scalable with the evolution of a business.
Determining what is best for your organisation requires a cleareyed assessment of need and a structured approach that in our experience should take into consideration a number of watch points.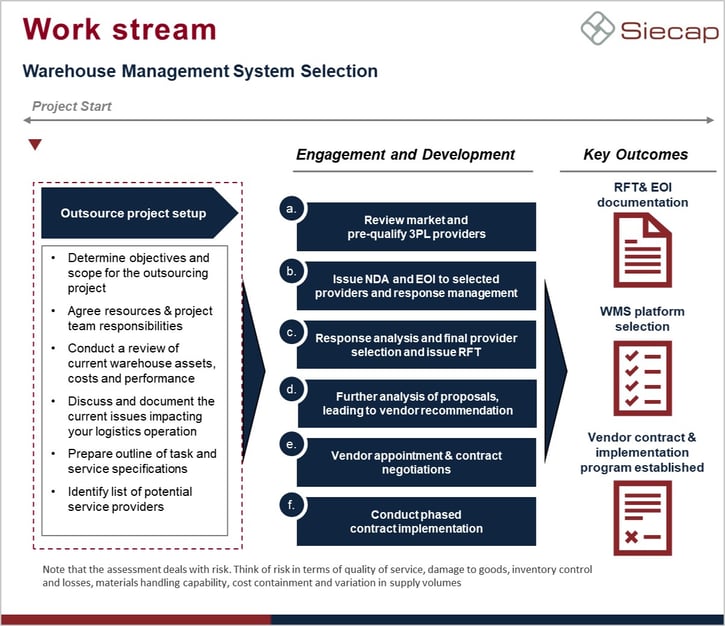 Unless you are highly experienced and know the market or are merely seeking to implement a basic, cloud-based solution, trying to run an abridged selection process will heighten the level of project risk.
Yes, there are times when a four week WMS RFP (request for proposal) selection program can succeed but this usually requires 'master' level knowledge, or suits an uncomplicated environment where a base level package can meet your requirements.
On average a considered selection process will probably take around 5 months or more if your business is complex.

Outside of 'end of life' the prime reason to adopt or replace a WMS is to access improved process functionality or enable connectivity to current and next generation hardware and software, more so with the onset of big data and technology, many organisations are looking at developing automation, artificial intelligence and/or virtual reality capabilities.
How a WMS provides such functionality and supports warehouse automation or mobile data solutions is the key that unlocks the door to continuously improve warehouse efficiency and achieve you warehouse KPIs. Mapping out these goals in a structured manner that can be clearly articulated is foundational to the overall success of the program.

Having come to the realisation that functionality to improve efficiency, productivity and connectivity are important elements to focus upon, avoid drawing up a long shopping list of functional requirements.
Experience shows that the shopping list approach is unmanageable, expensive to achieve and takes valuable time away from conducting a deep dive comparison of vendor solutions.
Focus on what matters most and keep firmly in mind where processes design is critical to operational success. For instance, when you get the receiving process right you have taken the most significant step towards an error free warehouse.
Some key functions to consider:
Item tracking: Using specific techniques such as IoT-enabled devices, barcodes and RFIDs.
Labour management: Tracking workers' effectiveness using customised performance metrics.
Items receiving & put-away: Customisation of put-away and cross docking routines that enable the minimisation of multi-handling.
Replenishment: Smart replenishment at receipt to avoid subsequent pick face fill.
Pick and pack process: Providing a more efficient order fulfilment operation through the selection of appropriate picking strategies.
Improvement measures: Generating reports against key KPIs, to find opportunities for incremental improvement.

Perfect is the enemy of good. Be clear on your needs and budget and what is the burning platform you need to solve. An evolutionary approach that starts with a solution that can be scaled up through a series of license tiers can be sufficient to get you going. Importantly start simple allows for the start of the change management task required to take your warehousing team from an 'operator knowledge' method of record keeping to a structured 'a place for everything and everything in its place' style operation.

As you move into the vendor selection phase give attention to the design of the comparative evaluation process. Consider WMS implementation as something more than developing a timeline and give particularly focus to:
who is doing the implementation (undertaken by the provider or a third party)?

what particular skills are needed and are these reflected in the implementation team?

how often have they done this successfully in recent times (do they have the process down pat)?
Getting a clear handle on the answers to these questions is absolutely vital. As is ascribing them the correct weighting in the evaluation process.
A first-class platform poorly implemented, immediately removes user confidence in the system and will not provide the required rate of return or achieve the expected benefits of your warehouse management system.

Build and workshop your negotiation strategy. Do not shortcut this step, you are dealing with WMS vendors who sign license deals every day, so take your time to prepare and practice your strategy.
Despite what the software industry likes to portray, license costs and annual support fees are negotiable. A common ploy is for vendors to deploy the financial reporting card trick. This is scripted as; 'We are not allowed to adjust license costs or annual maintenance fees because it affects our parent company revenue stream reporting' is the usual spiel. Treat this deservedly as one of their strategies, work out your counter argument and negotiate hard. You are going to live with the platform for a long time.
In Conclusion
Like many one off, high impact projects, WMS selection is best approached by consciously simplifying the process by breaking it down into discreet steps;
do your research,

ensure fit for scale and evolutionary capability

avoid unnecessary complications and retain focus on what is important,

operate a realistic timeline, structure your thinking and retain control of the process, and you will improve your chances of successfully bringing your new WMS platform online.
---
Siecap's Supply Chain division specialises in providing customised solutions from concept and strategy through to implementation and operational improvement.
Read our article on: 7 Tips when deciding on improving your warehouse storage capacity
---
Leave us your details to receive future information and tips on Warehousing:
---