7 Tips when deciding on improving your warehouse storage capacity
Is your business getting to a point where you are struggling to fit in stock? Are you growing and thinking of moving to or hiring an additional larger warehouse facility?
In this article we will explore some solutions in maximizing your warehouse to extend its life by improving storage efficiency and potentially avoid an unnecessary and disruptive warehouse move.
Done correctly, there are numerous opportunities to:
Improve productivity
Improve picking accuracy
Improve equipment utilisation
Improve inventory accuracy
Which in turn will:
Reduce cycle time
Reduce safety incidents
Increase warehouse efficiency
Increase warehouse space utilisation,
Ultimately the goal here is to reduce operating costs and get as close as possible to running a lean warehouse.
Even by achieving a measure of the items stated above there will likely be a marked improvement within the existing space available for a relatively low level of cost, additionally, this exercise buys time to evaluate alternatives, such as storage density, storage system and other warehouse solutions.
It's important to ensure any decisions around site expansion, re-location, or the addition of warehouses in your network are made at the correct time.
To assist your warehouse manager in successfully navigating this warehouse efficiency journey, we offer the following insights that can be applied to all supply chain sectors.
1. Recognise the early warning signs
Understanding what your KPIs are telling you can flag an imminent breach of your efficient warehouse storage capacity. If you are seeing storage slot utilisation levels (by count and volume) consistently sitting above 80-85%, it would be reasonable to surmise that either:
the warehouse management systems criteria need work, to reduce the level of inventory, or
the putaway and retrieval productivity levels have dropped off and error rates are increasing.
In which case the time to act has arrived.
2. Know your warehousing KPIs
Picking the right indicators that are relevant when measuring warehouse productivity and performance is key.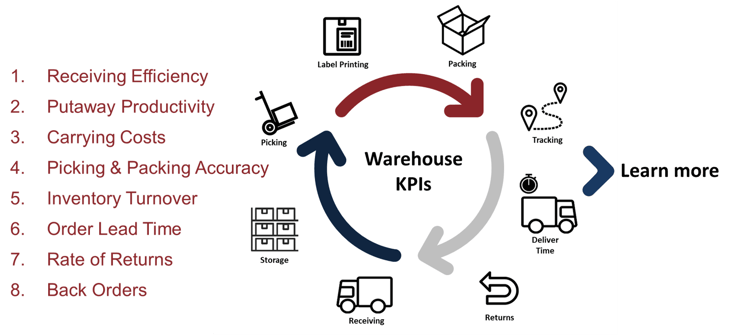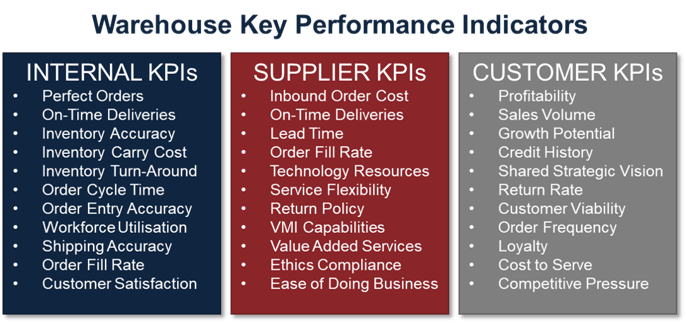 3. Is your cubic utilisation at 100%?
Have you run the cubic utilisation test? If your data allows, calculate your storage by the displaced cubic meters of stored product as a percentage of the net available warehouse building cubic capacity.
If you are above a value of 24-27%, chances are you have missed the early warning flags and hit maximum storage capacity of your warehouse.
The 24-27% value is the optimal range to allow workers enough room to move efficiently for loading and unloading pallets and picking. A cubic capacity higher than 27%, will likely increase labour costs because employees lack adequate room to work, which slows productivity.
Conversely, if your storage cube is lower than 22%, you are wasting space with inefficient storage capacity and have an opportunity to optimise your warehouse space.
Calculating Warehouse Space Utilisation:
Avoid using the total storage capacity of your warehouse. You need to use space for your racks, have empty space for workers and machinery to operate, and allow for efficient material handling.
Calculate the Total Size of Your Warehouse:
Subtract square meters used for office, restrooms, and other non-storage areas.
Calculate the distance from the finished floor of the warehouse to any overhead object.
Calculate Your Inventory Cube Size:
Keep in mind that your inventory cube size includes the racking areas in which the inventory is stored.
Ensure the footprints of each pallet rack and then calculate their total vertical storage capacity. Then, multiply the capacity of each rack by the total number of warehouse racks you have to determine the true size of your existing storage cube.
Determine and Evaluate Your Warehouse Utilisation Space:
Divide your inventory cube by your storage cube warehouse shelves to see how well you are utilising your available storage space.
4. The step that no one tells you
Get out there and walk the floor to confirm the problem. Make a visual assessment of the amount of vertical space or 'fresh air' you can see in storage locations and within the four walls. The 'fresh air' represents your mental checklist of potential storage.
Document your observations, with photographs, record measurements, shelf capacity, storage method, pallet racks or open areas. Use these observations together with your inventory controller if you have one or your inventory data and KPI's to plan improvement to your warehouse storage. These initial notes should be kept and used as your baseline against which change will be measured.

Gemba (also written as genba) a Japanese word meaning "the actual place."
The place where value is created," such as the storage area in a warehouse.
The term "going to the gemba" is described by the Japanese term "genchi gembutsu"
Doing a Gemba walk should have a defined purpose, or specific concern related to a KPI.
5. Step back and access
Sit back and assess the nature of the problem. What could have caused these problems to arise? Consider the following possibilities:
☐ an expansion in inventory
☐ changes in physical product profile
☐ changes to procurement practices
☐ seasonal inflows, or
☐ outbound order profile changes
These and other factors can all impact how your storage system and storage capacity is used. By forming an understanding as to what is driving up this utilisation, enables the right levers to be identified that can address and improve warehouse organisation.
6. Get reliable data
Do the hard yards and analyse the dimensional and through-put profile of the warehouse operation. This analysis is what you will need to land on the best fit strategy in maximizing warehouse capacity.
Applying the 80:20 rule (Pareto Principle) to identify what products are consuming the majority of storage space, allows you to home in on the problem. If you find data gaps that stop you from doing this, go and fill them.
This could entail:
redesigning your storage configuration and accessible locations
researching more efficient packaging practices
dimensioning key products
product segmentation
Using the ABC system, prioritises inventory based on cost, revenue, profit or risk of stock-out.
Depending on these variables, inventory is segmented into each category:
items - bring in top 80% revenue and typically could be 10 to 20% of the total inventory.
items -bring in 15% of revenue and typically occupy 30% of total inventory.
items - bring in the remainder 5% of revenue and typically occupy 50% of total inventory.
Based on the ABC analysis, warehouse managers can draw up plans to ramp up warehouse storage capacity, planogram locations and record-keeping for A-grade items.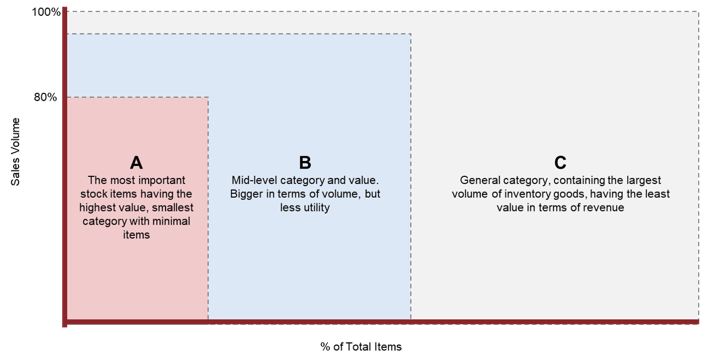 7. Use the best tools available
Selecting the best tool is a matter of preference and budget. Smaller scale operations can be effectively analysed using spreadsheets and subsequently drawn up using CAD. In larger scale reviews the deployment of a warehouse simulation package to assess the efficiency trade-offs between flow, congestion, and productivity may be required.
In conclusion
To optimise your warehouse, dig out your metrics, assess what they are telling you and then go and confirm the data for yourself to determine if you have a genuine storage capacity problem or a warehouse improvement opportunity.
Either result will identify where a business can potentially reduce operating costs, identify which processes are currently efficient and productive and which ones are not.
Having completed several projects that focused on improving warehouse capacity projects Siecap have been able to achieve tangible savings in headcount (10-15%) or capacity improvements of 10-20%. And even if the long-term outcome (2-3 years) could entail a move to a new facility the learnings and 'know-how' developed through a warehouse storage capacity improvement project will put you in good stead to achieve the best 'new facility' design and deployment.
---
Siecap's Supply Chain division specialises in providing customised solutions from concept and strategy through to implementation and operational improvement.
Read our article on: 6 Tips to choosing a Warehouse Management System in Australia
---
Leave us your details to receive future information and tips on Warehousing:
---