What makes investing in Australian Agribusiness a sound choice?
What is Agribusiness?
The supply of food and fibre to the world through the group of industries dealing with agricultural produce and services required in farming and livestock production, as well as the timber industry (for the purposes of this article, we will not be discussing the timber industry).
Agribusiness investment
Investing in agribusiness puts money into businesses that are engaged in the steps required to send agricultural goods to market. When we look at the supply chain, there are three main sectors that investors can engage in, within the industry:
The 3 Pillars of agribusiness
Production & Supply
Processing & Packaging
Distribution & Consumption
The Australian Agribusiness Supply Chain
Production & Supply
As a major food producer, Australia is one of the most food-secure nations in the world. Much of what we eat is homegrown, with imported food represents about 16% of household consumption.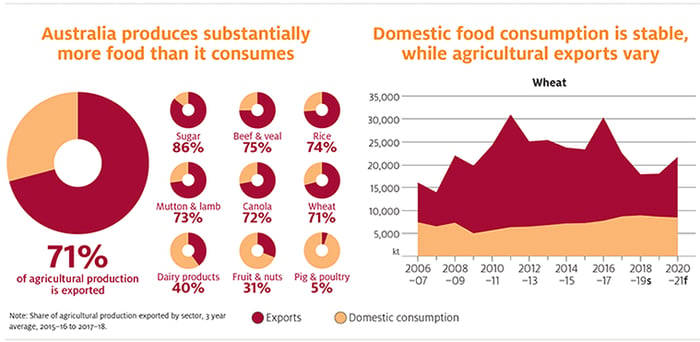 Australian farmers have reaped the rewards of innovation and advanced manufacturing, enabling them to continue producing quality products even through a crisis, for example, crop farmers' investment in time-saving machinery, much of which can be outsourced so smaller farmers sustains productivity. Australian farmers are world leaders in the invention and adoption of new technologies.
In the management of livestock, innovative moves which improved paddock design have resulted in healthier more resilient stock; safe and efficient means of transport maintain animal quality.
In cropping, very few of the conventional farming methods remain. Farming Innovation has delivered state of the art mechanisation for soil improvement, planting and harvesting, and reduced reliance on labour resources.
The result of wise innovation in the processing scenario encourages investment. The chicken meat industry is a case in point where innovation has been significant. Chickens which were traditionally raised in large sheds ran the risk of disease because of housing conditions – a critical components in the production of chicken meat being hygienic. Innovation in this industry has been significant. Now, automated, air conditioned, controlled conditions with sophisticated disease management covering all critical areas has been a game changer for investors.
In line with consumer demands, organic evolution into a self-sufficient industry and a "no waste mentality" sees most farmers utilising chicken manure to generate power and run sheds.
Processing & Packaging
The second stage of the paddock to plate journey relies on the processing and packaging and delivery of produce. Generally, this phase is more labour intensive than production. Some labour dependence is being reduced by mechanisation and sophisticated technology e.g optic machines which identify flawed/imperfect stock at a much greater rate than by human eye.
The labour and capital components are the big-ticket items, so machinery which is labour-saving and reduces human error improving quality control is highly valuable when a crisis comes along, and labour is in short supply.
During the recent crisis, there was little interruption to processing, though the closure of some abattoirs in Victoria disrupted supply for a time.
Paper packaging, which is predominantly sourced in Australia, meant that this stage in the process was unaffected, but plastics, predominantly from China were in short supply.
The absence of toilet paper-was not a production deficit but a combination of greed from bulk-buying and supply chain issues when processors were unable to bring forward the production lines. The pandemic has been a salutary reminder that processors must continue to review supply chains and anticipate logistical obstacles to build resilience to any future calamities.
Interruptions to the supply chain
Large structural changes were already taking place in the agricultural chemical supply chain, particularly in China (where a large percentage of 'round-up' products are sourced from).

Government restrictions had recently intensified, aimed at reducing the emissions associated with the production of these chemicals. This saw Chinese exporters cutting production significantly over the past two years. As a result, Australian suppliers reported that it was slightly more challenging to source product from this region.

The outbreak of COVID-19 in China and subsequent impact on supply chains, come at a bad time for agricultural chemicals.

Quarantine measures reduced the production and export capacity at the same time as demand spiked in Australia.

Restrictions implemented to curb the spread of COVID-19 slowed handling at Chinese (and other) ports, and caused some congestion, and a temporary backlog in shipment.
Dairy News Australia
In this reflective time, it's worth acknowledging that the growth of fraudulent trade has put immense pressure on how our IT systems can keep ahead of criminal activity within agri-trade. For example, milk powder tampering in China which reduces the quality of Australian products and reputation. Adulterated wine and milk powder are just two examples of overseas interference. There is now technology applied at the processing stage which allows cotton tracing, so the provenance of materials is easily identifiable. The benefits from processing innovations are across the board and as applicable to the farmer as the processor.
In terms of processing the "no waste mentality" is widespread amongst processors with consideration being given to maximise the use of whole products, means not only more cost-effective operations but an industry that is highly responsive to current environmental and ethical trends. Power and water are necessary but expensive resources, so industries are looking to minimise expense in an environmentally friendly economically responsible way.
The industry is starting to tick some of the boxes that investors are calling for – accountability, responsibility and low carbon or carbon neutral investments which are realistic.
Distribution & Consumption
Australia has continued to maintain its agricultural supply chain and export with little impediment from COVID. World trade through international trade agreements has fortunately continued with trade routes open.
Biosecurity has not been compromised by a system where the produce is predominantly contact free - handled by machinery. In fact, it would take some major crisis or disaster like an oil shortage, something beyond the pandemic, to impact that process and stop sea freight.
Political decision making is probably a more likely risk as witnessed when certain governments reject freight consignments.
Four key points of risk have been identified in Australia's export supply chain during the COVID-19 pandemic. Currently, all four elements are either not considered to be impeding Australia's trade position or have been the focus of direct government and industry responses to ease constraints.
Logistics & Freight


The ability to get product out of the country is a strong determinant of Australia's ability to trade.

International Processors


Labour availability in overseas markets may slow demand for Australian exports. Textile processors have been observed to have closed through the pandemic progression.

Access to Labour


Some sectors rely on migrant labour for harvesting produce. Domestic and international travel restrictions may affect some industries to produce and harvest.

Government Service Delivery


Continued certification, accreditation, and other regulatory services by Australian governments and our trading partners, which often require on-site audits before exports can proceed.

Read Government & Industry responses - Australian Agricultural Trade and the Covid-19 Pandemic
Fortunately for Agribusiness, it has proven its resilience in continuing to trade through this pandemic. This is not only a feather in the cap for the industry but will make it attractive to a variety of investors. While some might only be interested in 'pre-farm gate' and only invest in production, others will invest in the entire supply chain to a certain country and will want to have control of all the components to get it to its destination.
Consumption
With Australia being a major food producer, a global crisis has little effect on the domestic consumers' ability to access food staples. Only exotic, imported or niche products would potentially be in short supply, as they were in 2020.
Due to hospitality industry lockdowns, consumer habits have changed, resulting in an increase in overall spend on food for preparation and consuming at home, opposed to previously spent eating out
Internationally, many places which are unable to produce their own grain, fruit, vegetables have become reliant on Australia for clean, green food.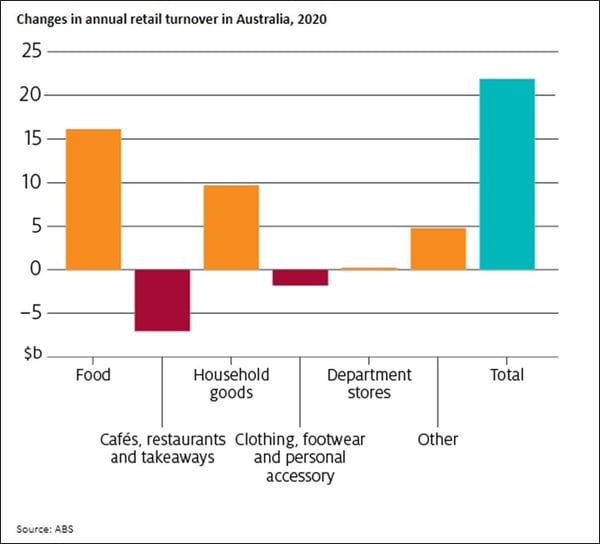 Addressing the pain points
The Agribusiness industries that do rely on seasonal labour were impacted by international border closures. However, because our supply chain is so broad the effect on the consumer has been minimised considerably.
Visa relaxation made by the government did address this area of production, allowing Agribusiness to remain an essential producing industry during the recent crisis.
Enforced shut-down of the hospitality sector meant some high end or niche markets -e.g micro-herbs, edible flowers, lobsters - were affected.
The supply of overseas inputs - chemicals, fertilisers and machinery – did affect the producers, but the first wave of COVID allowed farmers some time to accumulate. This reliance on cheap chemical imports, predominantly from China, will obviously be a focus of attention for future risk management. The industry was already actively looking for alternative sources pre-COVID but the search has ramped up.

Overall, however, for the livestock and agricultural industry in Australia, COVID had an insignificant impact on production. Staples of meat, dairy, grain, rice, vegetables, survived largely unharmed from a production point of view.

While the livestock sector is self-reliant, crop farming is vulnerable to the supply of those products.
As much as it's 'warm and fuzzy' to say let's produce at home, the economics of a competitive market in agriculture means that it's not necessarily viable, though doubtless the researchers will now be focussing their attention on this area.
A comparative advantage to come out of COVID is that investors in Australian are investing in the most sought-after land for produce. Australia (and New Zealand) have unparalleled reputations as providers of clean, green, bio secure produce. So, if trade routes are still open, those who require food can still get it.
Australia's producers have always been aware of the vulnerability created by poor biosecurity and so have invested time and energy in advocating governments to make strict border and customs control a priority to ensure the highest standards and protect the industry. COVID's unwelcome arrival via travellers has heightened the need to re-secure borders and reassess protocols to ensure biosecurity for all industries.
In Conclusion
There are diverse investors with different interests, but Agribusiness investment, as we have shown, stands alone in being a viable investment option, even during a crisis.
---
Agribusiness expert, John Storie, has unparalleled experience in the beef cattle, cotton and grain industries, having worked across most agricultural, pastoral and horticultural commerce. A veteran Agribusiness and finance consultant, his specialist areas include Agribusiness asset acquisition and management, corporate and non-corporate finance restructuring, risk management commodity marketing, trading and more.
Further Reading
References
---
Leave us your details to receive future information and tips on Warehousing:
---